Driving home from central New York, and I try to get on the NYS Thruway at exit 32, about halfway between Albany and Buffalo. Hm. There's a huge line of traffic getting on the Thruway. I've often spent time waiting to get off the highway, but never getting on to it.
When I finally get to the tollbooth, turns out there's an accident eastbound, and the Thruway is closed. (Seems as though they could put up a sign or something, but never mind, it's too hot to quibble. Just be glad you're not the one in the accident.) So, muttering under my breath, I get out the map and plan an irritatingly slow route home through a spiderweb of country roads.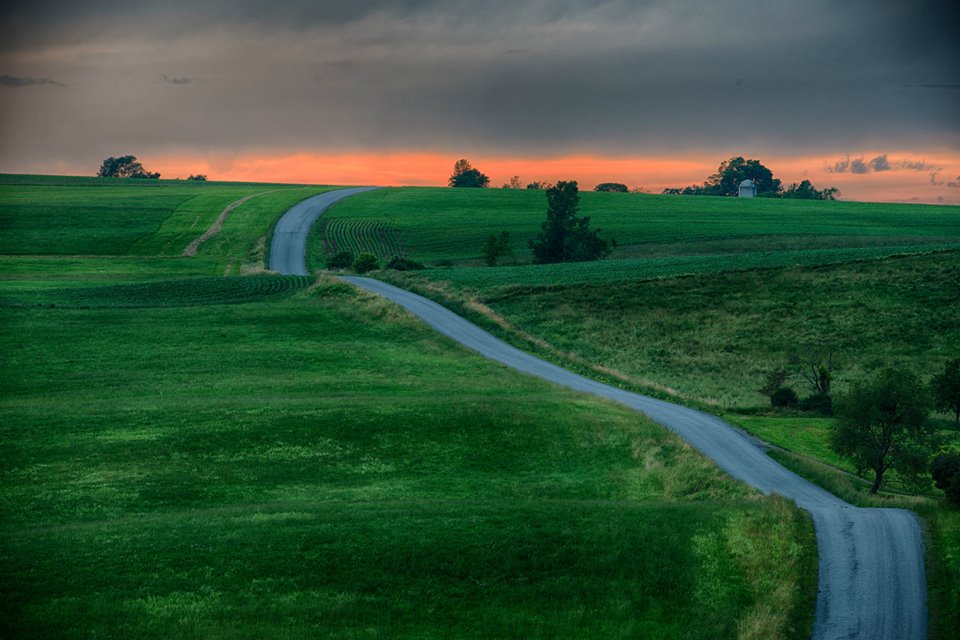 I don't think I actually took this particular road, but I was in the general area where Wells Horton takes many of his photographs. Thanks to him once again for this beautiful photo, and check out his others on http://wells-horton.smugmug.com/
On the back roads, it certainly took me longer to get home. But instead of droning along on the dull Thruway and fueling up at Dunkin Donuts at the crowded rest stop, I dawdled at three antique stores, got double toffee chip at an ice-cream stand, and wandered through the bushes at a pick-your-own-blueberry farm. Not to mention sunset clouds, roadside daisies, and green hills.
A good reminder that when two roads diverge, it's often best to take the one less travelled by. Makes all the difference.