What happens…
when the nation's most peaceful people are drafted into the nation's bloodiest war? Mr. Lincoln's Chair is a non-fiction study of the Shakers and their quest for conscientious objector status during the Civil War.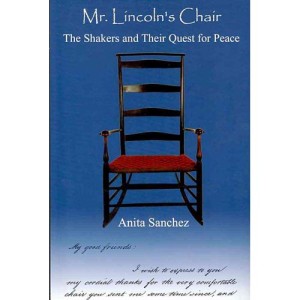 Mr. Lincoln's Chair is also an introduction to the Shakers—some of the most unusual non-conformists our nation of non-conformists has ever known. Abraham Lincoln hailed these folk as "my good friends," but most Americans were suspicious of their bizarre religious services, during which the worshippers would dance, sing, and shake with fervor when they felt the Holy Spirit. The book examines the Shaker life, beliefs, and handicrafts from their beginnings in the 1700s to the present day. The Shakers, thousands strong in the early 1800s, today number only a handful. But their legacy of creativity, beauty, and peace lives on, in their works of art and the many Shaker historic sites.
Includes a complete and up-to-date description of all Shaker sites, listed state by state from Maine to Florida. It describes the museums and restored villages, archeological sites, and the all-but-forgotten sites at which few if any traces of the Shakers remain. Includes contact information, location, and history of each site.
What did Shakers have to do with Abraham Lincoln?
The Shakers were—and are, since they still exist—a group of religious non-conformists who withdrew from society, and dedicated themselves to a life of worship interspersed with manual labor. Their pleasant rural villages were not unlike Catholic monasteries; and like monks and nuns, Shakers were strictly celibate. The Shakers were visionaries, who saw angels and heard spiritual voices; they believed that Christ's spirit had come to earth again–in the person of a woman. They were also hard-headed and successful businessmen and women, and technological wizards, who invented the circular saw, and improved household gadgets from brooms to clothespins. The Shakers held revolutionary beliefs in women's rights, racial equality, and non-violence, far ahead of their times.
Mr. Lincoln's Chair focuses on Henry Blinn, a Shaker of Canterbury Village, New Hampshire. Though a relatively young man, Blinn was a Village "Elder." In 1863, he discovered that he had to leave his peaceful Shaker village, because the bloodiest conflict ever fought on American soil was raging—and this life-long pacifist had just been drafted.
Henry Blinn, and all the Shakers, struggled with many of the same issues that perplex us today: What is worth fighting for? Is any cause worthy of violence? What can the individual do to confront the world's problems? The Shakers decided that they must hold to their principle of non-violence, and launched a formal protest against the drafting of their members. They went right to the top, and planned a visit to the Commander-in-Chief: Abraham Lincoln.
Their confrontation with the President became a legend among the Shakers, a favorite story often related by the Elders. And in appreciation for Lincoln's cooperation and courtesy, the Shakers created a magnificent handcrafted chair. Lincoln sent them a thank-you note, remarking that it was "a very comfortable chair."
Who were the Shakers?
'Tis the gift to be simple, says the famous Shaker song, but the men and women of the "United Society of Believers in the Second Appearing of Christ" were anything but simple. Today, Shaker enthusiasts abound, and Shaker rocking chairs and kitchen tables are now valuable commodities. But the Shakers were far more than interior decorators; the old photographs of them may show grim faces, but they were warm, spiritual, and loving people who broke all the rules of ordinary life.
The Shakers are a little-known part of American history. They are remembered today as remarkable craftspeople, designers, and architects. Shaker antiques are treasured as works of art, often sold for thousands of dollars and housed in museums. However, the Shaker legacy has much more to offer.
The Shakers were both extremely unconventional and surprisingly modern. They shouted, sang, and danced during worship services, saw visions, and practiced total celibacy. Yet they also developed many ideas far ahead of their times. The Shaker religion in America was founded by a woman, and gave women unprecedented status as leaders and decision-makers. The Shakers viewed Native Americans with respect, and endeavored to understand their culture and learn their skills. Shakers were also among the earliest proponents of racial equality and the abolition of slavery; there were many African-American Brothers and Sisters.
A core Shaker belief was their commitment to non-violence and pacifism. The Shakers' principles influenced the work and philosophy of writers such as Emerson, Alcott, Thoreau, and Tolstoy. Their radical beliefs helped shape attitudes and behaviors in American society through the eighteenth and nineteenth centuries to the present day.
The Shakers may have been devoutly religious, but they were also fierce and creative revolutionaries. They sought a way of life that was peaceful, productive, respectful of the dignity and value of all living things, and in harmony with the environment. The Shaker way of life was not without flaws and tensions, but it is a society well worthy of study, that still has much to offer today.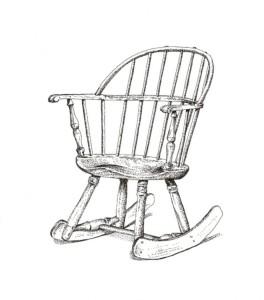 Reviews
"A captivating, well-researched historical chronicle written to appeal to readers of all backgrounds, highly recommended."

—Midwest Book Review

"A wonderful piece of historical literature for those who want to know more about the Shakers as well as for those who consider themselves Shaker aficionados.

— Register of the Kentucky Historical Society, Winter 2009

"An intriguing and insightful new book on the humble yet nonetheless powerfully influential story of the Shakers…Shaker furniture and material culture offer a wonderful legacy for which the Shakers are rightfully renowned. However, the author quickly and correctly proceeds to the oft-missed next step, declaring: 'but the Shakers are about so much more than furniture.' During the Civil War, perhaps the most violent and trying time in our nation's history, President Lincoln clearly recognized and appreciated the ideals of principled living hidden in plain sight within the Shakers' chairs. The author explores this dynamic in an exhaustingly researched and well-written work, with an in-depth yet easy to absorb manner.

The message the Shakers offered to Lincoln and indeed to the World was particularly poignant in those turbulent times, and demonstrated how the integrity and idealism of an unassuming group of unique and unusual Americans could positively influence such World-altering people and events. This book also puts forth the intriguing proposition that perhaps someday the World might realize, as have the Shakers for more than two centuries, that equality can yet be about so much more than just the freeing of slaves, and pacifism can yet be about so much more than simply the absence of war."

–Todd Burdick, Director of Education, Hancock Shaker Village

"The book is more an overview of the historic Shakers. It is a brief narrative that encompasses the total of the Shakers' experience. Well foot-noted, Mr. Lincoln's Chair is an excellent introduction to the Shakers."

— Charles R. Muller, author of 'The Shaker Way and co-author of The Shaker Chair