Who's coming to the poison ivy feast?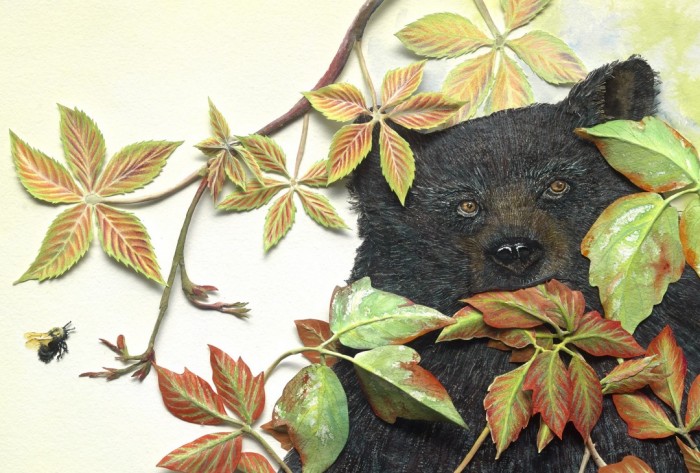 Leaflets Three, Let It Be! The Story of Poison Ivy   Boyds Mills Press, 2015
By Anita Sanchez, Illustrations by Robin Brickman
***Teachers click here for an EDUCATOR'S GUIDE
This engaging nonfiction book will surprise you! Meet the deer who nibbles on poison ivy leaves, the salamander who shelters in the plant's cool, umbrella–shadows, the fall insects who wrap themselves in poison–ivy blankets, and the birds who feast on its berries in the starving end of winter. Poison ivy has always seemed mysterious in its danger, but it too has a purpose and something to give.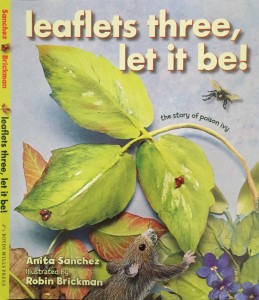 This book teaches young explorers how to identify and avoid poison ivy. But it also introduces the animals that depend on it for food and shelter.
From the book:
Winter woods are dark. Bare branches rattle in the icy wind.
A thick brown vine creeps up a tree. Shaggy rootlets help it cling to the bark.
The vine curls through the branches like a furry snake.
                                                     Hairy vine–a warning sign!"
A rabbit hops down the path, and nibbles tender leaflets of poison ivy.
             Snort! A hungry does scares him away. Then she snacks on the leaves while…
                 Squeak! White-footed mice gnaw on poison ivy stems until…
                      Growl! A cranky bear, woken from his long sleep, wants a bite, too.
Tender red leaves are the first taste of spring. But poison ivy has more to give.

Review
 School Library Journal
"This attractive informational picture book provides a strong overview of poison ivy. The title aptly borrows from a well-known adage, which warns hikers and campers how to avoid coming into contact with the creeping plant. Sanchez conveys solid information on this potentially irritating plant through a delightful narrative. She describes how each season poison ivy transforms from a hairy vine in winter to brightly streaked red leaves in spring. Brickman's detailed watercolors depict a host of varied wildlife interacting with the plant or coexisting with it: rabbits hopping, bears growling, and various birds feeding on its berries. Useful content becomes engaging and compelling.
VERDICT: A strong addition to biology and life studies units, this one may even save kids from an itchy experience."