A tiny red leaf. It catches the early spring sunlight like a ruby. I hesitate, take a deep breath. Should I eat it? Just a little teeny bite of poison ivy.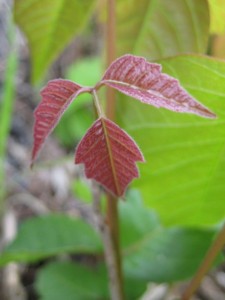 It's research, after all. There's an old, old belief that eating a leaf of poison ivy every day in the spring will make you immune to the itch. It's undoubtedly true, I read it on the internet! All sorts of websites attribute the custom to Canadian loggers, Spanish conquistadors, or various unspecified Indians.
But many reputable sources agree that it's possible to attain immunity by eating poison ivy. Euell Gibbons, the famous wild foods guru of the sixties, swore by this method—he recommended starting in spring when the leaves are small, and eating one a day, therefore getting a small and slowly increasing dose of urushiol, the toxic chemical that causes the itch, so that your system can gradually develop an immunity.
I've actually met someone who had done this. A young man who assured me that he ate poison ivy every spring. He was still alive, with lips and tongue apparently intact–he swore it didn't bother him at all, and he never got a rash. And, better yet, he vowed poison ivy leaves were delicious, with a "light, lemony taste."
The early spring leaf in my fingers is no bigger than a pea. How could such a small amount hurt anyone? But research has shown that a sensitive individual can get a horrendous reaction from 50 micrograms of urushiol—a grain of salt weighs 60 micrograms. This little leaf contains one of the most potent toxins on earth. Urushiol causes an allergic reaction in approximately 85% of humans, and dermatologists have estimated that one ounce of urushiol would be enough to give a rash to thirty million people. The stuff is plant plutonium.
I drop the leaf on the ground. Nope. Just can't do it. I'm not particularly susceptible to poison ivy, but allergies are tricky things. You can develop them as you age, or grow out of them.
This eating poison ivy thing does seem to work for quite a lot of people. But it's important to remember that, chemically speaking, poison ivy is not a poison with a specific antidote. If ten people drank arsenic, they'd all die. If ten people walk through poison ivy, a few will be fine, most will be mildly itchy, and one will end up in the emergency room. Poison ivy is an allergen, not a poison, and everyone's immune system responds to it a little differently. Nothing works like magic on poison ivy, not even the modern medical arsenal of steroids and antibiotics. Poison ivy is too unpredictable, too complicated a question for any one answer to be the solution.
The plant isn't all bad. It's only humans who get this itchy reaction so horridly–many species of wildlife, from mice to moose, eat the leaves with no ill effects. Poison ivy berries are a crucial survival food for birds in winter. Lots of our most beloved songbirds–robins, bluebirds, cardinals, mockingbirds–love PI berries. They feast on poison ivy–but sadly, humans aren't invited to the banquet.
So, no PI salad today, thank you. A nibble of poison ivy just might sensitize me so that my next poison ivy encounter would be worse than ever. I guess I'm just not a truly dedicated researcher. I'll have to enjoy poison ivy this spring from a safe distance.
Itching to know more? Check out my books:
ITCH: Everything You Didn't Want to Know About What Makes You Scratch. Poison ivy and even more fun!
In Praise of Poison Ivy: The Secret Virtues, Astonishing History, and Dangerous Lore of the World's Most Hated Plant. Identification, tips for healing the itch, and why birds love PI–everything (and more) that you ever wanted to know about poison ivy.
Leaflets Three, Let It Be! A picture book for pre-K to Grade 3, to help the youngest explorers enjoy nature safely.