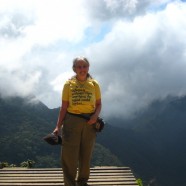 A summer job at a nature center turned into a life-long passion for nature.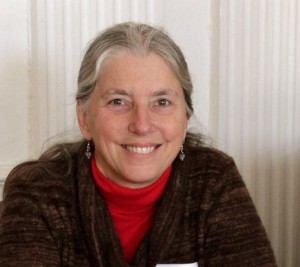 The summer job—leading kids on nature walks—started off as fun between college semesters, and eventually turned into a thirty year career. Anita worked as an environmental educator for the New York State Department of Environmental Conservation at education centers across the state. She now is a free-lance educator, providing programs for schools, libraries, and museums as well as botanical gardens and arboreta.
Always a champion of the unloved plants of the world, her first book was The Teeth of the Lion: The Story of the Beloved and Despised Dandelion. "I always loved dandelions, but what made me actually sit down and write a whole book about them was the horrifying fact that more than seven million songbirds a year are killed by pesticides used on lawns and gardens. But I realized no one would want to read a tirade on the evils of pesticides. I started looking for reasons why people should appreciate dandelions, and just kept finding more and more reasons why, throughout history, they have been valued as having the power and beauty of lions."
Now she has managed to discover something good about poison ivy—it's a major food for wildlife, especially beloved birds like robins, bluebirds and cardinals. Her book Leaflets Three, Let it Be! The Story of Poison Ivy was published by Boyds Mills Press in April 2015. Then–even more about poison ivy! In Praise of Poison Ivy: The Secret Virtues, Amazing History, and Dangerous Lore of the World's Most Hated Plant, was published by Taylor Trade Publications in 2016. Anita has more environmental science books coming from Charlesbridge and Houghton Mifflin in 2017 and 2018.
Anita spent her childhood on the rocky coast of Cape Ann, the setting for her historical novel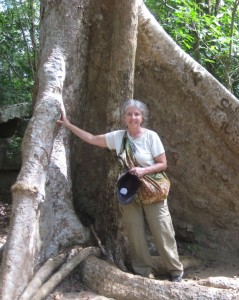 The Invasion of Sandy Bay. "It's a true story—a war story (it happened during the War of 1812) that is the antithesis of war stories. It's about how enemies can work together—and how the real enemy is often not who you think it is."
Anita lives in upstate New York—the part of New York that has trees and mountains, not skyscrapers. But she also loves Manhattan, London, and Paris, and her blog Unmowed.com often chronicles the unnoticed plants of urban environments. She loves to adventure in the wilds of the United States as well as visiting remote places around the world—she has ridden camels in the Sahara desert, dived the Great Barrier reef of Australia, and participated in an Earthwatch expedition to the Kingdom of Tonga in the South Pacific, as well as travelling in England, France, and  Spain, visiting temples and watching elephants in Sri Lanka, and hiking Mt. Olympus in Greece.
One of her ambitions is to visit the four corners of the continental United States (California, Washington, Maine, Florida); she recently reached the first one by hiking to Cape Flattery in Washington State just in time to see a gray whale swim by.
Visit Anita's author page on Amazon.
Author photo by T. Lindsay