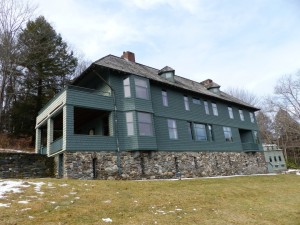 Rudyard Kipling loved Vermont passionately. "It's an uncivilized land (I still maintain it), but how the deuce has it wound itself around my heartstrings in the way it has?" The local farmers were also a little bewildered by the famous Brit's enthusiasm for Vermont life. Kipling's neighbors scratched their heads in amazement, watching him speed down snowy hills on two thin boards strapped to his feet—he's credited with introducing the sport of skiing to New England.
I always think of Kipling as a stodgy stiff-upper-lip old man, but he was only 27 when he moved to Vermont with his American wife. Mrs. Kipling was a stickler for etiquette—she dressed to the teeth and always dined formally. But Mr. Kipling loved to saunter down the dirt road dressed in his oldest clothes (much criticized for his casual attire) and chat with the farmers as they milked their cows or boiled maple sap.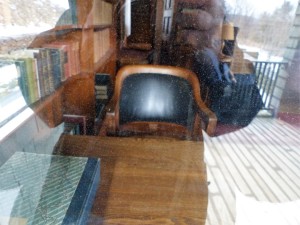 But every day from nine a.m. to one p.m., Rudyard Kipling was to be found at his desk, which is still there in his cozy, book-lined study. Butt in Chair, as every writer knows, is the one and only magic formula for getting a book written. Alas, few writers are able to dream up characters like Mowgli, Bagheera, Kaa, Baloo, and Shere Khan. Somehow, the child-like delight Kipling took in Vermont snowballs, maple syrup, and dandelions translated into vivid tales of Indian wildlife and jungles.
Kipling also loved the sea, and ships, and wrote Captains Courageous while at Naulakha—although he himself got seasick during his few excursions in fishing boats. He designed the big wooden house to ride the Vermont hillside "like a boat on the flank of a distant wave," with his study in the prow of the ship, so to speak, looking out on a vista of sky and mountains.
In the sea, once upon a time, O my Best Beloved, there was a Whale, and he ate fishes. He ate the starfish and the garfish, and the crab and the dab, and the plaice and the dace, and the skate and his mate, and the mackereel and the pickereel, and the really truly twirly-whirly eel. All the fishes he could find in all the sea he ate with his mouth—so!
Kipling's daughter Josephine ("Effie," he called her) was born in Vermont and played in the gardens and meadows around Naulakha. "In the evening," Kipling remembered afterward, "there were stories meant to put Effie to sleep, and you were not allowed to alter those by one single little word. They had to be told just so; or Effie would wake up and put back the missing sentence." Those stories he repeated "just so" and eventually wrote down have put generations of children to bed.
The few years Kipling spent at Naulakha were a time of happiness, fun, and a rich outpouring of creativity. But Josephine's tragic death at the age of six made it impossible for Kipling to return to the home he loved, as the house and gardens were filled with memories of her. But he wrote that his time in Vermont would be "blessed unto me for all my life."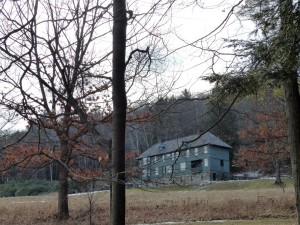 Note: Naulakha is owned by the Land Trust USA and is not open to the public, although it is available for rental (and still has some of Kipling's furniture.) The Trust staff graciously gave me permission to photograph and walk around the grounds.
Also note: It's Naulakha–but Kipling also wrote a little-known book titled (for reasons best known to himself) Naulahka, leading to much confusion and endless misspellings.