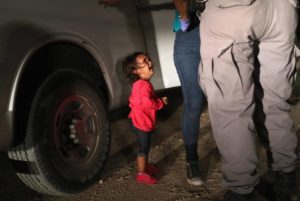 At first I thought it was fake news. This couldn't really be happening, not in the USA. Government officials couldn't be separating children from their parents. That picture of a crying child couldn't be taken in America. We don't do that. This is the sort of thing that might happen in other places, other countries. Not here. We sent American boys to die on the beaches of Normandy so that this very thing would never happen again.
But it isn't fake news, it's real. This heartless, cruel policy is enacted by our President. He's not denying it. No law forces him to do it, it's a choice. His administration defends it on the ground that the children are given new clothes and access to television. But the trauma these children are experiencing may never be erased. 
I completely agree we need strong borders and a reasonable policy for legal immigration. But this is government-sanctioned child abuse.
On Saturday, June 30 there will be protests at the White House and all over the USA. I plan to participate wherever I can. As a parent, the idea of a child being taken from my arms is my worst nightmare. This is not a matter of political party or religious belief. All parents should feel these children's pain.
Please consider joining a protest near you. Together we can stop this evil practice.