Posted by Anita on Dec 9, 2021 in Unmowed Blog | 0 comments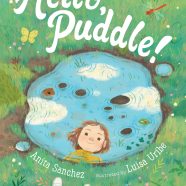 Check out Litlinks, a wonderful blog by Patricia Newman. It's a wealth of ideas for ways teachers can use nonfiction in the classroom. Lots of great STEM tie-ins.
I have a guest post about my nonfiction picture book, Hello, Puddle!
Read More
Recent Posts
The Unmowed Corners