Charlie's Diner.
Coffee, cream, no sugar.
Two fried eggs over easy.
Whole wheat toast with strawberry jam.
Sunflowers.
Every summer this gr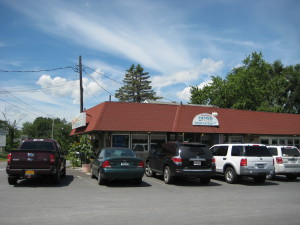 eat old diner has sunflowers in pots outside the restaurant, to cheer the travelers whizzing by on Route 20. And every year the sunflowers shoot up, dwarfing the pots, and produce giant suns of flowers. And of course birds adore sunflower seeds, so avian travelers stop by and help themselves to a beakful of seeds. Sunflowers to go.
Last year, a few seeds must have fallen into this crack in the pavement. And with all the rain we've had, the seeds sprouted. And somehow gritted their teeth and kept on shoving, and are managing to flourish while growing out of the cement.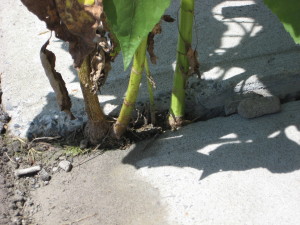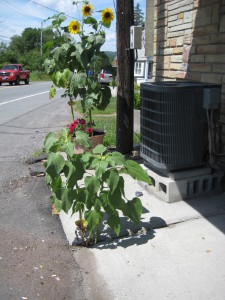 Footnote: It's actually now called the Duanesburg Diner, at the corner of Routes 20 and 7, but to me it will always be Charlie's. Fondly remembering the white-mustachioed gentleman who made every customer feel like one of his grandchildren.