Hurrying along the sidewalk outside Colonie Center mall on a blustery day. I wasn't expecting to find a lesson in tree identification spread out on the pavement at my feet. It's amazing how many ways nature can invent to say "leaf."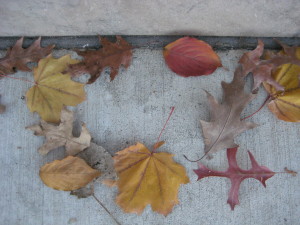 All these specimens were blown at random into a corner by the icy wind. There must be a dogwood around here somewhere, because there's a smooth-edged oval leaf, round and bright as an Easter egg. Next to it is a sharp-edged red oak leaf, brown and crisp as toast.
There's a lot of the familiar five-pointed shape of the maple leaf, but it's Norway maple, not sugar maple–sugar maples could never tolerate the road salt they would have to cope with in a mall parking lot. Norway maples are much hardier, actually too hardy–they're highly invasive and often outcompete sugar maples. And then there's pin oak, the leaf all sharp and bristly as a pincushion. Even in mid-November, the leaves keep some of their red and gold to remind us that it's still–just barely–fall.