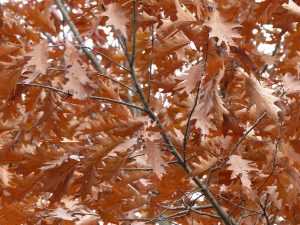 If there's a single color to describe the month of November, it's brown, no doubt about it. The crimson and scarlet of October are long gone. The pristine white of a December snowfall is yet to come. In November, the trees are brown, the bushes are brown, what's left of the garden is brown, the grass is turning brown. Even Thanksgiving decorations are, by and large, brown. (Cardboard turkeys and the like.) Everything seems drab and dreary, and brown.
So what to do about this general state of brown-ness? There's an old saying that if you can't get out of it, then get into it. Short of exchanging my brown backyard for a sapphire Caribbean lagoon, can I learn to come to terms with brown?
I do better with brown when I remember my beloved childhood box of Crayolas. The memory of those crayons reminds me that no two dried leaves are the exact same shade of brown.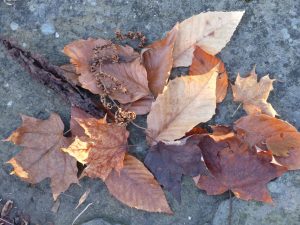 This one's tan, this one's taupe. This one is russet, with hints of mahogany and coffee. The tall dried grass is beige and cinnamon, with shadows of bronze and chocolate.
The November landscape is subtle, understated, complex: like a Rembrandt. Primary colors like red and green seem out of place now. This is the month of chestnut and copper, ginger and rust. Ecru, amber and umber, with just a touch of burnt sienna.