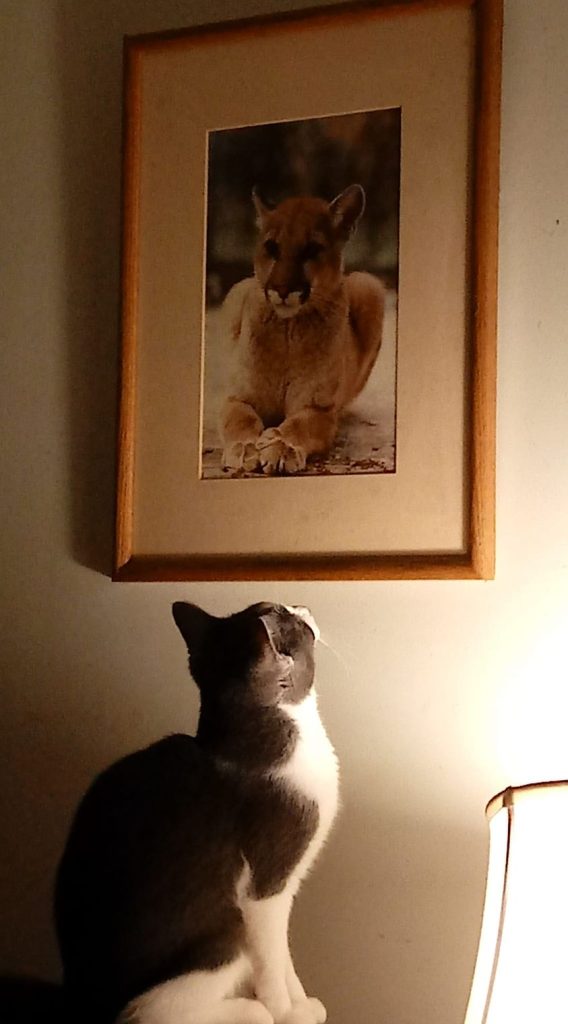 Sam wakes up and stretches, yawning
At the morning brightly dawning.
Then softly to himself he'll say
"Let's see, what shall I be today?
Perhaps I'll be a pirate bold,
A-voyaging in search of gold.
They'll call me Captain Sam the Great.
(My best friend Pete can be first mate.)
We'll be the fiercest tars afloat–
Come on! The couch can be our boat."
They sail across the Carpet Sea,
The armchair ships all turn and flee.
Sam makes men walk the plank till—"Ouch!
Abandon ship!—Dad wants the couch."
Sam wanders to the kitchen, thinking.
He stares at Mom with eyes unblinking:
"Now what shall I imagine myself—
What dragon, monster, gnome or elf?
Perhaps I'll be an astronaut
Or race-car driver—who knows what?
Or brighter than a star I'll glow,
A singer in a Broadway show!"
"Please stop that noise!" says Mom. "Sam, scat!
Go outdoors when you sing like that."
"I'm not just Sam," thinks Sam. "Not me!
I'll be a lion and climb this tree.
High on the topmost branch I'll hide,
And never will I go inside.
Sam scrambles up the trunk with ease.
(Pete's not as good at climbing trees.)
But–"Dinnertime!" Dad gives a shout.
Sam decides he's in, not out.
Mama's made his favorite dish:
Chicken wings and tuna fish.
Then, "Story time!" They hop in bed.
Sam loves it when a story's read.
A thrilling tale when day is done:
Puss in Boots—his favorite one.
Sam roams the jungle with Baloo,
Helps Mowgli fight off tigers, too.
Or goes to Oz with Dorothy,
Scarecrow, Tin Man, Sam—"That's me!"
"It's late!" says Mom. "Turn off the light!"
Sam gives her a quick lick good-night.
He's cozy in his fur pajamas.
"Sweet dreams, boys, be good!" says Mama.
Outside a friendly moon is gleaming,
Pete's asleep, already dreaming,
Sam curls up in his favorite place,
And then begins to wash his face.
"No matter what the others see,
I can be what I choose to be.
But still, sometimes it's nicer far
To be just what you really are."
Sam yawns, then purrs, rejoicing that
After all, he's Sam the cat.
–Anita Sanchez